Best of the Beach
Outer Banks Best of the Beach Winners
for 2014, 2015, 2016, 2017, 2018, 2019, & 2020!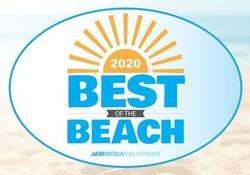 We here at Cove Realty want to thank everyone for making Cove Realty a "Best of the Beach" winner for 7 years!!!

It is because of you that we have been able to succeed for more than 40 years and we will continue to work hard, making pleasant vacation memories for years to come.
As "the Company that Cares," we strive for customer satisfaction and want to make sure that every vacation here on the Outer Banks is an amazing vacation.
So thank you again from our family to yours!
The Cove Realty Family